http://www.brainwave.org.uk/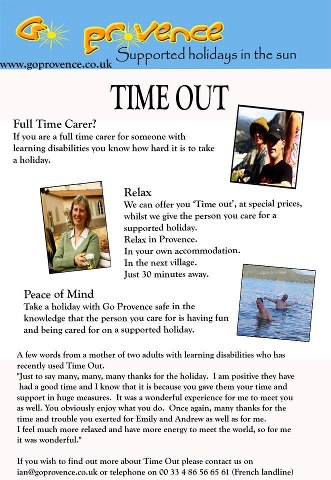 Financial Help/Low Cost Holidays
3H Fund
" Subsidised group holidays for people with physical disabilities. Volunteer carers provide all
necessary support during the holiday.
" Grant programme to assist disabled people, their families and carers, on a low income, to
organise a modest holiday for themselves.
" Grants given for the accommodation part of a holiday and the holiday must be taken in the
UK.
01892 860 207 (general enquiries) www.3hfund.org.uk
01892 860 219 (grant programme)
Activenture
" Subsidised activity holidays in the UK during school holidays for children with disabilities
(aged 8 -18).
" Trained volunteers and a registered nurse provide twenty-four hour care.
01342 828 215 www.londonyouth.org.uk/activenture
Crossroads Care Croydon Carers Support Service
" Grants to carers of up to £200 towards the cost of a holiday with or without the person they
care for.
" Carers must not have received money from the scheme in the last two years.
410 Brighton Road, South Croydon CR2 6AN
020 8667 9893 www.croydoncrossroads.org.uk
Family Holiday Association
" Free holidays at UK holiday parks, such as Butlins, or grants towards other holidays, for
low-income families with a child aged 3-18 who have not had a holiday in the past four years.
" Applications from professionals only.
020 7436 3304 www.fhaonline.org.uk
Handicapped Aid Trust
" Grants towards the cost of helpers to assist adults (aged 17 and over) with disabilities on
holiday.
" Deadline for applications: summer holiday - 1 February, winter holiday - 1 August.
01253 796 441 www.handicappedaidtrust.org.uk
HOLIDAYS
7
Happy Days Children's Charity
" Free family holidays and group activity holidays in the UK for children aged 3-17 who have
special needs or are young carers.
" Families should have an income of £25,000 or less (some benefi ts are discounted).
01582 755 999 www.happydayscharity.org
The Harriet Davis Seaside Holiday Trust for Disabled Children
" Subsidised self-catering holidays in Pembrokeshire in fully adapted and equipped
accommodation for families with a disabled child.
" Three properties are suitable for children with physical disabilities, and one for children
with autism and/or a learning disability.
01834 845 197 www.harriet-davis-trust.org.uk
The Kiloran Trust
" Subsidised holidays at a house in West London for full time carers.
020 7602 7404 www.kilorantrust.org.uk
Margaret Champney Rest & Holiday Fund
" Small grants for carers to take a holiday while the person they care for stays in alternative
care.
" Applications from professionals only.
01394 388 746 www.theogilvietrust.org.uk
National Benevolent Fund for the Aged
" Free holidays to UK seaside resorts for people aged over 60 who are living on a low
income, have not had a holiday in the last three years and are able to care for themselves
during the holiday.
" A particular area of the country is targeted each year for this scheme and people must live
in that area to be eligible to apply.
020 7828 0200 www.nbfa.org.uk
Pearson's Holiday Fund
" Grants towards a UK holiday for low-income families with a child aged 4-16 who has a
disability or is a young carer.
" Applications from professionals only.
www.pearsonsholidayfund.org
Scout Holiday Homes Trust
" Affordable holidays in accessible caravans at UK sites for low income or single parent
families or families where a member has a disability.
020 8433 7290 www.scoutbase.org.uk/hq/holhomes
Written by Jenny Jones, Information Offi cer, Carers' Information Service.
April 2010
Every effort has been made to ensure the contents of this factsheet are correct, but the Carers'
Information Service cannot accept responsibility for information that is inaccurate or for the quality of
the services listed.